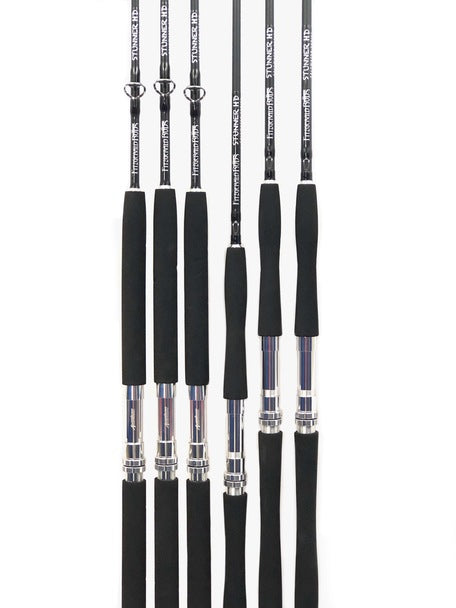 - The Stunner HD Saltwater Series is designed to be the most versatile saltwater series on the market.
       -From Snook, Tarpon, Cobia, Snapper, Grouper, Dolphin and everything in between this series has you covered! 
       -No matter if you are fishing offshore or nearshore these rods get the job done. 
       -The Fitzgerald Fishing proprietary super nano composite blank is specially 

engineered 
                 to be extremely sensitive and designed to last!


| | | | | | | |
| --- | --- | --- | --- | --- | --- | --- |
| MODEL | LENGTH | POWER | HANDLE LENGTH  | LINE WT. | LURE WT. | PRICE |
| ST58XH | 5'8" | X-HVY | 27 1/2" | 40-150 LB | 6-16 oz | $229.99 |
| ST58XXH | 5'8" | XX-HVY | 27 1/2" | 80-200 LB | 8-20 oz | $229.99 |
| ST66H | 6'6" | HVY | 27 1/2" | 20-80 LB | 4-12 oz | $229.99 |
| ST60HS | 6'0" | HVY | 27 1/2" | 20-50 LB | 3-7 oz | $229.99 |
| ST60XHS | 6'0" | X-HVY | 27 1/2" | 40-80 LB | 6-12 oz | $229.99 |
| ST70HS | 7'0" | HVY | 24 3/4" | 20-50 LB | 3-8 oz | $229.99 |
| ST80XHS | 8'0" | X-HVY | 28" | 20-40 LB | 3/4 - 3oz | $229.99 |
| ST80XXHS | 8'0" | XX-HVY | 28" | 30-50 LB | 2-5 oz | $229.99 |