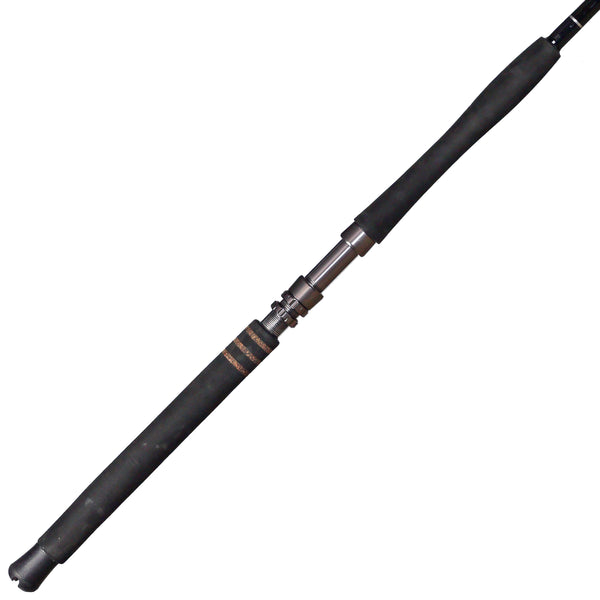 TACTICAL DESIGNS
All of Bull Bay's rods are designed with a tactical purpose. Light weight, powerful, sleek and unique. Check out our Sniper, Assault, LMG, Infantry, BOLT and Stealth Sniper models for a true tactical feel.
QUALITY CONTROL
Bull Bay quality checks all of their products prior to leaving their building. Bull Bay strives to provide a high quality product that is tested to the highest specifications to ensure the best performance!
HIGH QUALITY COMPONENTS
Bull Bay doesn't skimp out with their components. Their goal is to provide a rod that is not only high quality but high performance. Bull Bay rods utilize some of the best guides, grips, reel seats and their own in house designed blanks to provide anglers with a difference you can feel.
The Bull Bay Brute Force Boat Rods name is self explanatory. When you need to rip a grouper out of the rocks, turn that stubborn tarpon, manhandle that snapper from the bottom, or put the heat on a monster amberjack, look no further! Pelagics beware! The Brute Force comes in two categories, our Brute Force boat rods, and our Brute Force Tarpon rod. The Brute Force boat rod models feature a unique e-glass blank construction with a graphite inner core keeping the blanks light weight yet extremely powerful and durable. The Brute Force Tarpon rod features a custom 32 ton carbon fiber and graphite blank with extra thick walls for enhanced power and durability when fighting tarpon. All Brute force rods have custom designed grips with a tapered center in the front grip giving anglers a grab point at the top of the grip which makes fighting a large pelagic easier. Double locking anodized aluminum reel seats with a flat belly section where the reel foot sits ensures the best hold on your large reels. When you are ready to take on the big fish, the Brute Force is here to win the battle!
Features:
Custom Tapered EVA Grips
Rubber gimble butt grip
Custom double locking nut aluminum body reel seat
SS316 Double foot tangle free guides on Spinning ' Double foot boat guides on conventional
EGlass blank with Graphite core